I ventured to Portobello Market today. The drizzle and massive throngs of people were all part of the experience. If the world had a massive attic, that attic would be Portobello. The whole time I was there I was thinking that I've seen all of this stuff at my grandma's house or my great-great aunt Ginny's house or Alta. It was really cool, but Borough is definitely my scene. Unless I'm decorating my house... which will be in Notting Hill... in case you were wondering.
The circle line was down, so the direct route to Trafalgar and the National Gallery was unavailable. Thus, a trip to Ben's Cookies was completely justified when Aubrie and I transferred at Oxford Circus. Those cookies are little buttery devils. They are moist and slightly undercooked so that the middle literally tastes of dough. Perfection.
The National Gallery is intense and overwhelming. It was crazy crowded being Saturday and it seemed as though all of London decided it was a good day to come. I decided that we would just make a quick trip and see some highlights. I wished I had already taken art history now instead of taking it in the fall. I have a feeling that I'm going to be sad that I didn't fully appreciate certain pieces when I saw them in person. Humanities 202 gave me a basic background, but when I go next I am definitely stealing the book from the library and taking it with me... Pretty much everyone is there and you could spend a whole day in the galleries no problem.
Ruebens' chicks always look like they've eaten a diet of straight Ben's.
I'm now obsessed with Van Gogh. No textbook can ever show the texture or do justice to the colors.
Matisse once owned this Degas, that's right, MATISSE.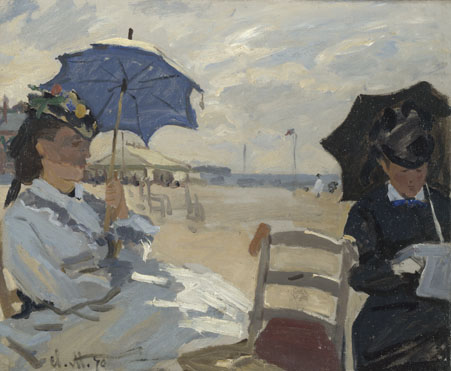 So this Monet isn't my favorite, but I love that you can see the sand that got stuck from when he actually painted this.
Cool, huh?
I'm going to church tomorrow. I probably should have picked up a Spanish-English dictionary today. Wish me luck... I having a feeling I'm going to tell everyone I'm pregnant tomorrow...